To get the best prices, please try both searches!

Blackpool Departures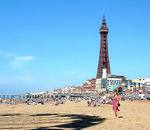 In addition to offering holidays from all UK Airports, Sunseekers Travel specialise in holidays from Blackpool International Airport and we are pleased to announce that we are Platinum Award Winners for Jet2 Holidays for Lancashire and Merseyside Region.
You can visit either our Blackpool Branch located at 24 Deansgate or our Cleveleys Branch located at 118 Victoria Road West, where our experienced team will be pleased to help you find your perfect flight or holiday departing from Blackpool Airport, or call us on 01253 291800, or at our Cleveleys office on 01253 850022, alternatively you can book your holidays and flights securely online!
Flights which depart from Blackpool Airport are to European destinations including flights to Alicante (Costa Blanca), Malaga (Costa Del Sol), Murcia (Costa Calida), Palma (Majorca), Tenerife, Faro (Algarve), Jersey, Dublin and Belfast.
There is an Airport Development Fee (ADF) at Blackpool International Airport, all adult passengers (16 years and over), departing from Blackpool International will be required to purchase a £10 ADF ticket. All child passengers (15 years and under), departing from Blackpool International will require an ADF ticket but no fee will be charged.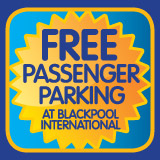 FREE car parking is now available at Blackpool International Airport for all departing passengers using their Passenger Car Parks.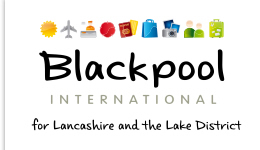 ROUTES FROM BLACKPOOL AIRPORT

Alicante - Thurs, Sat, Sun
06/03/2012 – 04/03/2013
Malaga - Wed, Sat, Sun
26/03/2012 – 04/11/2012
Murcia - Tues, Thurs, Sat
21/05/2012 – 23/09/2012
Majorca - Mon, Thurs, Fri, Sat, Sun
21/05/2012 – 30/09/2012
Jersey - Mon, Fri
21/05/2012 – 23/09/2012
Faro - Tues, Thurs, Sat, Sun
19/03/2012 – 04/11/2012
Tenerife - Fri
06/01/2012 – 24/03/2013
Days of flights can vary at different times of the year
Routes are correct as of 1/Jan/12